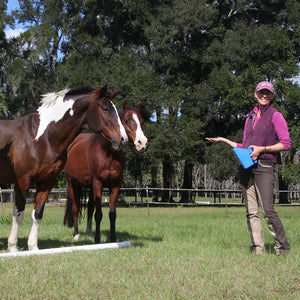 Video: Feeding in Partnership (2 Part Video Training)
Whether it's grass, grain, or treats, the presence of food can cause big changes in our horse's behavior... (often behaviors we don't want!). 
Would you like to turn aggression, distraction, and pushiness around food into attentiveness, calmness, & motivation?
Learn how to make feeding time an opportunity to improve the relationship with your horse by using communication to set up healthy boundaries around food.
2-Part Training:
Part 1: Video Training. This video is taken straight out of the Habits For Excellent Horsemanship. It shows Karen with her horses and how she sets up good habits around food.
Part 2: Additional Video: In-depth discussion. Karen also answers most common student questions on this subject.
Upon Purchase, you'll receive a PDF download with a link to the training page.
---
We Also Recommend