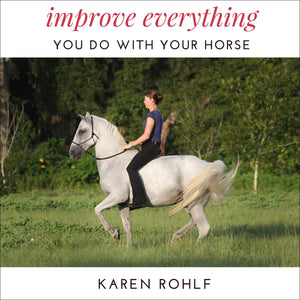 Audio: Improve Everything You Do With Your Horse
Downloadable MP3 Audio version of Karen's 'Improve Everything You Do With Your Horse' e-book.
This 1.5-hour audio goes deep into mindset and theories about how to approach your horse and riding.
No matter what your level or discipline, this book will give you a fresh perspective on how to improve everything you do with your horse. If you have ever felt stuck or frustrated trying to learn dressage or any kind of riding, you will love this unique and holistic view of what it means to be in harmony with your horse mentally, emotionally, and physically.  
This book is in-depth enough to explain the concepts, yet short enough to easily listen to and remember. It is an excellent introduction to Karen Rohlf and her Dressage Naturally system.
Learn:
What it means to have healthy biomechanics
The power of mind-set
Goal-Setting
The most important conversations you need to be able to have with your horse in order to improve the quality of his movement.
---
We Also Recommend