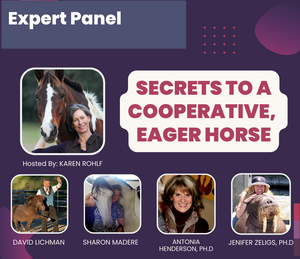 Secrets to a Cooperative Eager Horse - Streaming Video
Behavioral Strategies for the Modern Equestrian: Karen Rohlf and an expert panel discuss ways to help you achieve a positive relationship with your horse through kind and effective training.
This 3-hour recording covers motivational strategies, ways to most effectively use positive reinforcement, and pressure/release. We also answer student questions. You'll get proven animal training techniques and ways to apply them on the ground or in the saddle with your horse. Featuring Karen Rohlf, Jennifer Zeligs PH.D, Antonia Henderson PH.D, David Lichman, and Sharon Madere.
---
We Also Recommend