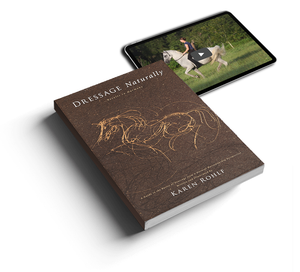 Dressage Naturally Book + Video
If you are a subscriber to Karen's Video Classroom, you save 15% on most store items. Click here to join now.
THE book to have if you want to learn dressage with a fresh perspective that highlights partnership with your horse... Not just in theory, but in practice.

** If you live in Australia, you can save on shipping and customs fees by purchasing through a special link, where your book will be printed on-demand within your own country. Please go to: dressagenaturally.net/printondemand
The mental and emotional benefits of partnership-based training are widely known and are increasingly sought after in the sport world. The physical benefits of excellent gymnastic training have been proven for centuries. 
Karen Rohlf is unique in that she actively trains to build partnership, harmony, and upper level dressage, AND is an excellent communicator and teacher. With this book and video you can avoid the confusion of trying to reconcile the sometimes conflicting advice from natural horsemanship and dressage teachings. It will show you how to learn dressage using partnership building principles and how to do natural horsemanship in a way that improves your horse's biomechanics. 

Whether you are a natural horsemanship student learning dressage, a dressage rider who wants a happier way to get results, or simply someone who wants their horse to be the best they can be... You will be glad you took a look at this book... And your horse will thank you!
You will feel a sense of relaxation as you read and watch, knowing that you have finally found a way to create harmony with your horse mentally, emotionally, and physically... Not just in theory, but with many exercises from basic to advanced.
Available in simple bound paperback.
This book has Big Picture Concepts, Exercises, and Essays For Success.
Includes over 3 hours of Video instruction (streaming video)
Written and illustrated by Karen Rohlf
This book has sold all over the world. Many people have bought several copies because they want to share it with their friends.
This book is also published in German by Cadmos Publishing, and in Polish by Galaktyka Publishing. Please contact these publishers directly to purchase those editions.
---
We Also Recommend