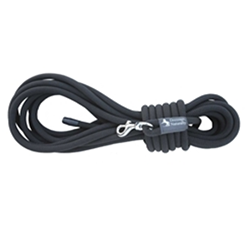 Dressage Naturally Long Line
If you are a subscriber to Karen's Video Classroom, you save 15% on most store items. Click here to join now.
This is about to be your favorite line!

This 7/16 inch diameter rope has a slightly different feel than our original lines: however, it still has fantastic handling and superior durability. This style of rope is used by firemen, the military, and for rigging, so you know it is strong, yet easy to work with.

The clip is lightweight, small, and strong.

From Karen Rohlf:

"I had these made because I couldn't find a line I loved anywhere else. It is my favorite line for playing on line, and I also use them in pairs for long lining. 

It is light and thin enough to be comfortable to hold, yet thick and firm enough to not tangle like a 'normal' lunge line. 

For natural horsemanship students, this is the perfect middle between the 45' lariat rope with those annoying coils and the thicker 22' ropes that get heavy.

For dressage riders, you will love the feel of this line and that it doesn't tangle and flop like a nylon web lunge line."

Available in black only.
---
We Also Recommend